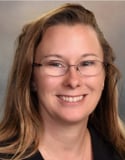 Kimberly L. Anderson
Project Manager -
Agriculture & Natural Resources Extension, Center for Industrial Research and Service
Through the CIRAS partnership with Agriculture and Natural Resources Extension, Kim helps food companies obtain compliance through practical methods. Before joining ISU, Kim worked in private industry and at the U.S. Food and Drug Administration (FDA) as an investigator with the U.S. Public Health Service. Kim's regulatory experience, coupled with her engineering background, provides a realistic approach in coaching manufacturers to meet compliance with FDA-regulated products. Whether updating to FSMA, just beginning, implementing changes, or training on PCQI, Kim brings a regulator's reference point to quality systems, using her knowledge to help businesses succeed.